Find your new pantry favorite: Extra Virgin Avocado Oil. Crafted from fresh Mexican avocados, its mild flavor and high smoke point make it perfect for cooking. Rich in essential fatty acids for health and energy. Try Ava Jane's Kitchen oil today!
---

View full details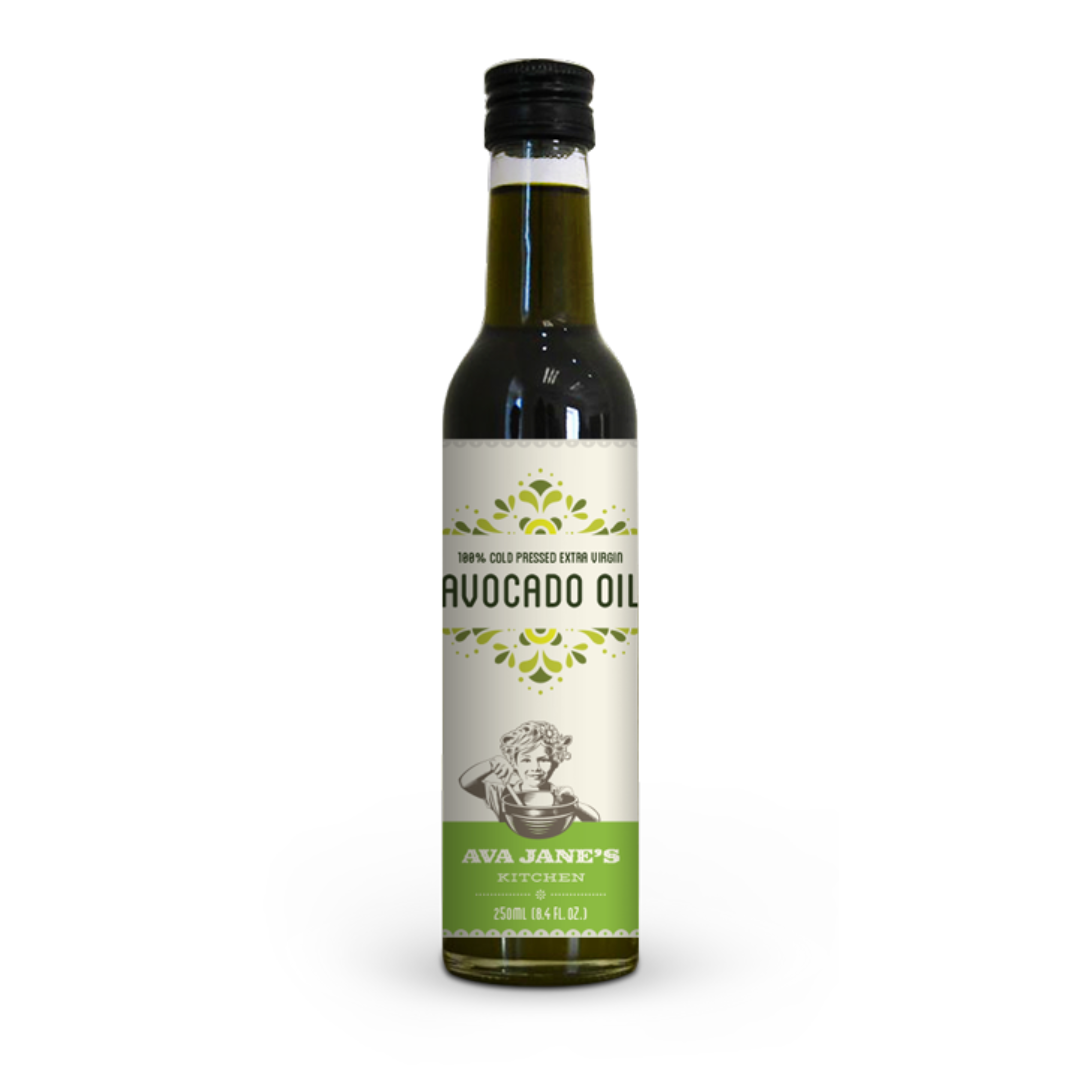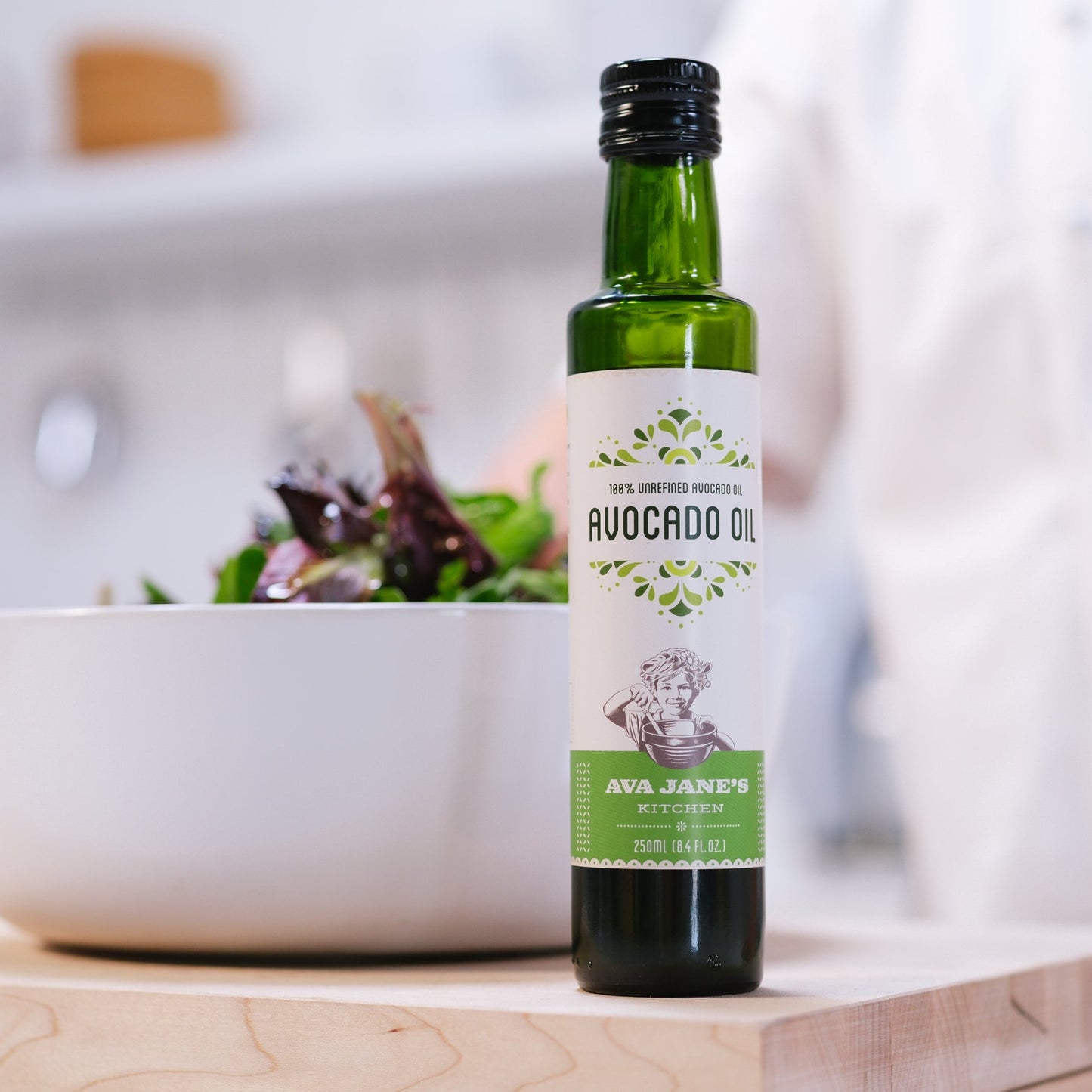 Avocado Oil
RICH IN POTASSIUM
& VITAMINS
Cold-Pressed From Super-Fruit Right Off The Tree

This oil is so fresh, it pours out of the bottle dark green with all of its natural vitamins and minerals, with a smooth and buttery flavor. 

Filled With Extraordinary Health Benefits

Supports a healthy immune system, helps keep your skin, hair, and nails smooth, shiny, and youthful, and can even help support healthy weight loss. 

High Smoke Point - Perfect For Cooking

Avocado Oil has the highest smoke point of all cooking oils (480F), which makes it perfect for grilling, frying, BBQ, baking, and more...
Ava Jane's Kitchen Avocado Oil Is The Freshest, Healthiest, Best-Tasting Cooking Oil In The World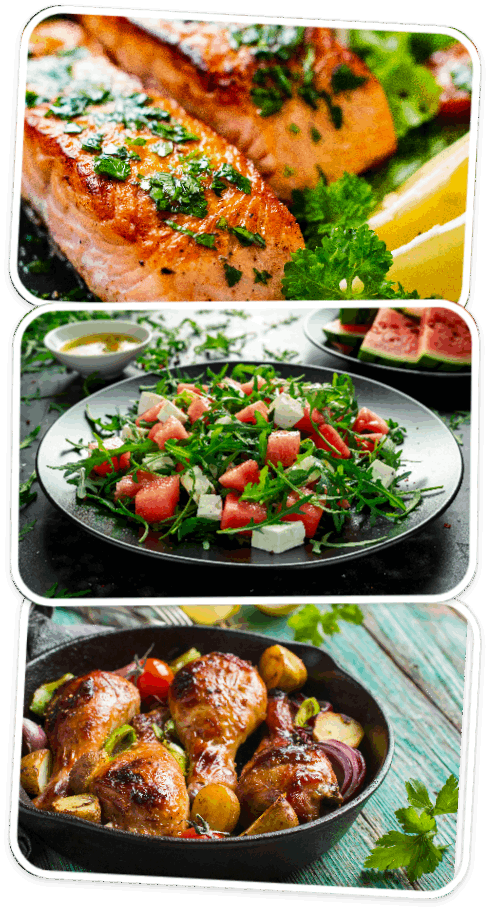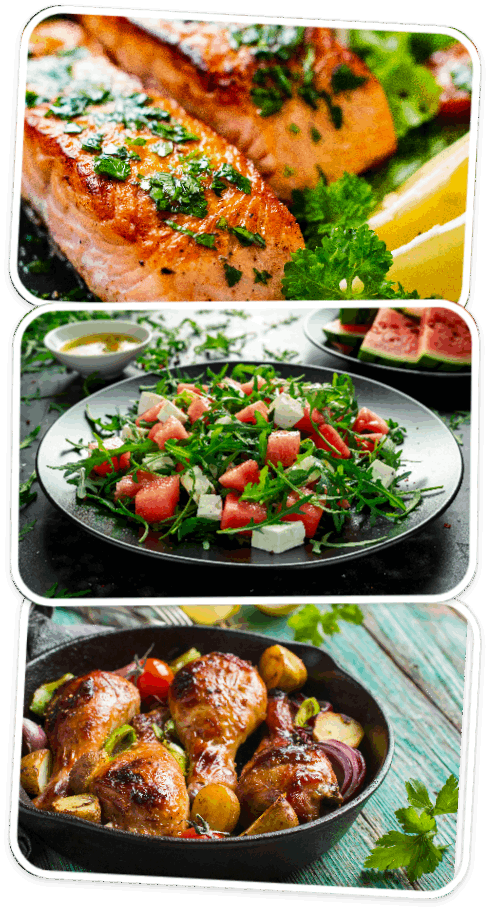 Try grilling salmon with it…
Add Colima Sea Salt, lemon, roasted garlic, and asparagus, and you have a rich, tasty dinner seasoned to perfection.
Or how about drizzling our avocado oil on a watermelon, feta, and avocado salad?
YUM.
The oil accentuates the sweet, smooth flavors…
Once you try it, you'll agree: it's delicious.
How about pan roasting chicken, potatoes, and spinach with our oil for an amazing hearty meal?
Health nuts love putting this "green butter" on their sourdough toast…
In their cherry and tomato salads…
Or even on their turkey sandwiches with honey mustard…
Because just like real butter, it makes everything taste better.
At the same time, it's incredibly healthy for you.
Studies show:
Avocados are full of healthy fats that keep your skin, hair, and nails smooth… shiny… youthful-looking40-42
They're rich in potassium, vitamin C, B6, and E, which means they support healthy digestion and a strong immune system13-15
They even help you burn fat and lose weight19-21
Butter, Olive Oil, And Other Cooking Oils Break Down In The Pan While

AJK Avocado Oil

Stays Fresh And Delicious
Out of anything you cook with (including butter, lard, vegetable oil, extra virgin olive oil, or coconut oil)…

Avocado oil has the highest smoke point of them all.⁴³

The smoke point is the temperature at which your cooking oil starts smoking in the pan…

This is when the oil breaks down and forms damaging, unhealthy compounds.

Which makes AJK avocado oil perfect for:
High-heat sauteing
Grilling
Frying
Barbecuing
Baking
Drizzling onto salads
And more…
A Study Out Of UC Davis Found That 82% Of Avocado Oils On Supermarket Shelves Are Diluted With Vegetable Oils3
Take another look at this video…

It shows the difference between competitor avocado oils (to the left) and ours (to the right):
As you can see, most avocado oil companies dilute their products with yellow waste oils — something we have never — and will never — do.

Our natural, cold-pressed avocado oil is poured into dark green bottles to protect it from heat, oxygen, and light. It's sent straight to your kitchen — while it's still fresh. Unlike other cooking oils on the market, you can trust that ours is made with the highest quality avocados, without any toxic vegetable oils added.

When it comes to taste, freshness, and health benefits, AJK Avocado Oil is in a league of its own…
Ava Jane's Kitchen - A Company Built On Family, Trust, And A Love For Delicious Food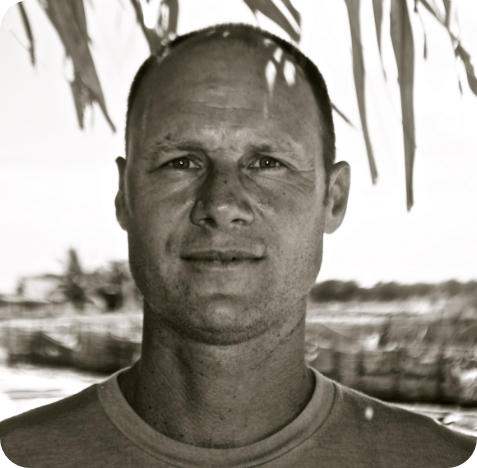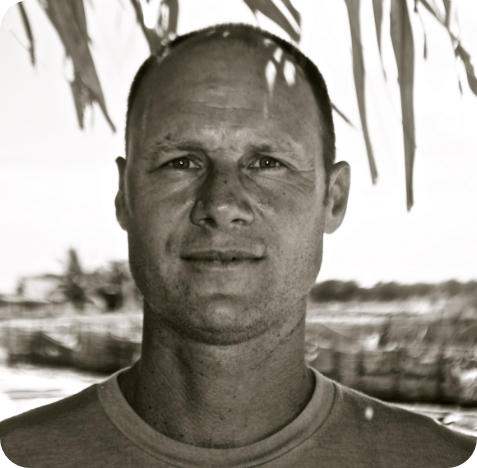 Hi, my name is John Cawrse (pronounced "coarse").
I'm the founder of Ava Jane's Kitchen, a health food company named after my daughter, Ava Jane.
Our mission is to bring the best-tasting foods on planet Earth to kitchens everywhere.
Our Avocado Oil is one of my personal favorites…
I'm so proud to bring delicious good-for-you Avocado Oil to you and your family.
Because In my opinion, you should never have to choose between your favorite foods and your health.
We Also Recommend You Try…
Colima Sea Salt

Coarse, crunchy, moist sea salt
free of microplastics

Learn More

Yucatan Honey

Caramelized Cacao

It's real, decadent cacao beans covered with delicious, crunchy sugar

Learn More
Your Avocado Oil Is Covered By Our 30-Day Money Back Guarantee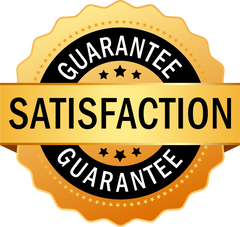 Quite simply, if you don't fall in love with our Avocado Oil…
Simply send it back in the next 30 days for a full refund. 
And please, take your time with cooking, tasting, and enjoying our Avocado Oil
This guarantee is valid for 30 days after you receive the product.
Frequently Asked Questions
Are yellow "supermarket cooking oils" really that bad for me?

Yes. Feel free to look around on the internet and do your own research.

The majority of cooking oils on supermarket shelves are spoiled, rancid, and low-grade - especially:

Soybean oil

Canola oil

Vegetable oil

Corn oil

Grapeseed oil

These oils are yellow because they go through a high-heat extraction process that turns the fat molecules inside spoiled and rancid…

And you don't smell this because they bleach and deodorize the oils with chemicals.

Click here to see the process in action (but prepare to be horrified).
Are extra virgin olive oils and avocado oils I find on supermarket shelves really diluted with vegetable oils?
What makes Ava Jane's Kitchen Cold-Pressed Avocado Oil so special?

Ava Jane's Kitchen Cold-Pressed Avocado Oil is the only cold-pressed avocado oil available in America that is made with avocados hand-picked by skilled harvesters in the Guzman family orchard in Mexico.

We take extra care to separate the green meat from the avocado skin and pit using an advanced process, a process that other avocado oil companies are not willing to undertake.

Most companies simply cold press the entire fruit, including the skin, pit, and even spoiled flesh.

Each bottle contains the nourishment of 20 avocados, making it a true treasure trove.

Crafted for lasting freshness, our oil is safeguarded in a dark bottle to shield against the 3 enemies of oil: light, heat, and air.
What are the health benefits of Ava Jane's Kitchen Cold-Pressed Avocado Oil?

Ava Jane's Kitchen Cold-Pressed Avocado Oil is full of essential fatty acids, antioxidants, Vitamin E and monounsaturated fats. It is a heart-healthy oil that supports the immune system and can reduce inflammation, belly fat, as well as improve digestion and energy levels. It is naturally cholesterol-free and sodium-free, making it a perfect choice for those watching their dietary restrictions.

It also has a high smoke point, (480°F) meaning it can be heated to relatively high temperatures without losing its nutritional benefits or giving off an unpleasant smell. This makes it perfect for sautéing, baking, roasting, and marinating.
Is Ava Jane's Kitchen Cold-Pressed Avocado Oil safe to consume?

Yes, Ava Jane's Kitchen Cold-Pressed Avocado Oil is safe for consumption. It is 100% natural and unrefined, free of additives, and preservatives. We are also committed to producing only the highest quality oil, so you can be sure that it is free of rancidity, adulteration and oxidation.
Does Ava Jane's Kitchen Cold-Pressed Avocado Oil contain any other oils mixed in?

No, Ava Jane's Kitchen Cold-Pressed Avocado Oil does not contain other oils like safflower oil, sunflower seed oil, or soybean oil mixed in. It is 100% pure, unrefined cold pressed avocado oil.
Does Ava Jane's Kitchen Cold-Pressed Avocado Oil contain any genetically modified ingredients?

No, Ava Jane's Kitchen Cold-Pressed Avocado Oil does not contain any genetically modified ingredients. We are committed to providing only the highest quality, all-natural ingredients.
How should Ava Jane's Kitchen Cold-Pressed Avocado Oil be stored?

Ava Jane's Kitchen Cold-Pressed Avocado Oil should be stored in a cool, dark place. It should also be sealed tightly to ensure that it remains fresh. Each bottle will keep for at least 2 years unopened. Once opened, we recommend using the oil within 45 days although if stored away from light and oxygen, it will stay fresh longer.

If you're ready to enjoy… grab your order today!